Eco Schools Programme


At Grappenhall Heys, we strive to help our pupils learn about the world and that what they do to care for the earth and its inhabitants (people and animals) matters.
We aim to do this by working closely with the Eco Schools programme, led by the Eco Team which consists of pupils, staff, parents and Governors.
Our Eco Topic that we focus on in the curriculum are: Energy, Biodiversity and Waste.
See our Eco Code below.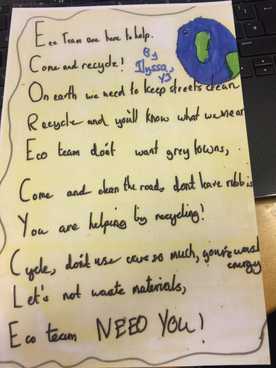 Download Our Action Plan here
action_plan_spring_2_2016_pdf.pdf

Our Aims are that:
Every pupil can participate in making Grappenhall Heys an Eco-friendly and sustainable community with a global perspective.

Pupils can learn about and decide on the priorities for our school.

Eco matters and a closer connection to the earth are integrated into the curriculum and school life.

Current Framework:

The Eco agenda is steered by the Eco Team, supported by Staff and Governors – guided by but not contained by the Eco Schools agenda.

The Eco Action plan reflects the work in progress under the Eco Schools nine areas.

Significant progress has been made in biodiversity and recycling.

Achievements
Congratulations to all our pupils and staff and especially to our Eco team who have worked so hard to promote and drive this fantastic achievement!
Iyssa has written an incredible poem for our school's Eco-Code. This was the last criteria we need to fulfil for the next Eco-Schools award. As a result of this Grappenhall Heys Primary School was awarded its Silver Eco-Schools Award at the end of last term!
Thank you again for your support,
The Eco-Schools committee
Suggestions for Eco Team