School Leaders
At Grappenhall Heys, we encourage and celebrate young leaders and role models.
Children are appointed to these positions of responsibilities in different ways as we strive to encourage children to recognise their own potential and that of their peers. For some positions, children prepare and deliver speeches to their peers and are voted for by the children in their class. In other cases, staff recognise a pupils' particular excellence in a subject and their ability to lead others. Additionally, for some positions of leadership, pupils are interviewed by staff / other pupils for a role.
Our School Council
Having been elected by their peers, our school councillors work alongside our head teacher and teachers to give their voice and opinions to life at school. They were instrumental in developing our school library and choosing playground equipment. We very much welcome the thoughts of our pupils in how we can support them in their learning.


Our Eco Team
Our Eco Team, alongside Miss Corradine, work hard to raise the profile of Eco issues in our school. Our team of budding environmentalists are full of fantastic ideas. In September 2019, our Eco team wrote a letter to our local MP to explain their worries about environmental issues which they shared with the school in assembly. They current project is to gain the Hedgehog Award and ensure that our school is a hedgehog friendly place!
Our Librarians
We are keen to continue getting the best from our wonderful library and our newly appointed librarians are raring to go. These children all love reading and take great pride in looking after our school environment.


Sports Crew
Our sports leaders (from Years 4, 5 and 6) are responsible for acting as role models to promote sport and healthy living. They also promote active break times and lunches across the school. These children have been trained in play leading and are supported by the staff to encourage others to join in.
Our Prefects
Each term, ten Year 6 pupils act as prefects and are key role models in school. They help out at key events, support the office staff and teachers and lead by example acting as role models to others.

Afternoon Tea with Mrs Jackson
Mrs Jackson invites 8 children (1 child from each year group) to attend 'Afternoon Tea' with her. The children talk about what they are learning and share something they are proud of. The children reflect what they enjoy about their learning and also what they think could make it even better. 'Afternoon Tea' promotes good speaking and listening skills and also creates a chance for the children to get to know our Headteacher better.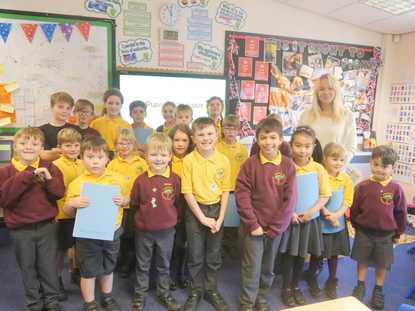 Pupil Voice Forums
We value what our pupils think and hold regular Pupil Voice Forums. Each half term, the children from Year 1 to Year 6 are split into groups containing 3 or 4 children from each class. These groups then visit different teachers to share their thoughts on what they enjoy about each subject, how we can help them learn and their suggestions as to what we can do better!
Our school leadership teams are representative groups of students who represent their views and raise issues with Senior Managers and Governors of our school.
Each team can propose and take forward initiatives and projects on behalf of their peers, and be involved in strategic planning and processes such as the School Development Plan, governing body meetings and staff appointments.

The objective of effective pupil leadership teams is to help children and young people to:
enjoy and feel empowered by their education

feel that their school responds to their needs and views

have the opportunity to let adults know their feelings and opinions about things that affect them

have a say about decisions, and to play an active role in making their school a better place

develop active life skills through participating